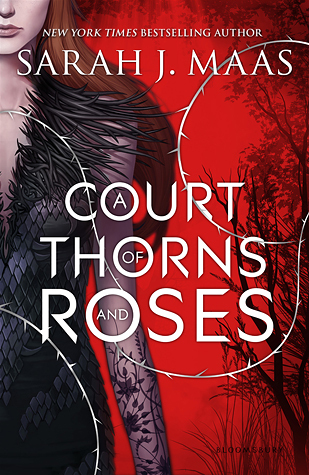 A Court of Thorns and Roses
Author: Sarah J. Maas
Series: A Court of Thorns and Roses #1
Publisher: Bloomsbury USA Childrens
Published on: May 5 2015
Genre: Fantasy, New Adult
Format: 432 pages, eARC
Provided by: NetGalley


Amazon | Kobo | B&N | Book Depo | GoodReads
A thrilling, seductive new series from New York Times bestselling author Sarah J. Maas, blending Beauty and the Beast with faerie lore.

When nineteen-year-old huntress Feyre kills a wolf in the woods, a beast-like creature arrives to demand retribution for it. Dragged to a treacherous magical land she only knows about from legends, Feyre discovers that her captor is not an animal, but Tamlin—one of the lethal, immortal faeries who once ruled their world.

As she dwells on his estate, her feelings for Tamlin transform from icy hostility into a fiery passion that burns through every lie and warning she's been told about the beautiful, dangerous world of the Fae. But an ancient, wicked shadow grows over the faerie lands, and Feyre must find a way to stop it . . . or doom Tamlin—and his world—forever.

Perfect for fans of Kristin Cashore and George R. R. Martin, this first book in a sexy and action-packed new series is impossible to put down!
Where to begin . . .
A Court of Thorns and Roses was and wasn't exactly what I was expecting.
I knew it was going to be a sort of Beauty and the Beast meets Tamlin mashup . . . but I didn't really think about what that might mean.
When I think of retellings, especially fairy tale retellings, I think of the Brothers Grimm and Hans Christian Anderson. I think of folk stories and mythologies that have no author to speak of, b/c they're part of an oral tradition that no single person can lay claim to.
What I do not think of is Disney.
Disney is the end product of a retelling. It's not from whence the retelling came. So . . . in my mind . . . a retelling of anything Disney . . . is a retelling of a retelling. And while the Beauty and the Beast portion of our story wasn't entirely Disney, it was significantly Disney.
So here's the deal: I liked this book. I really did, and cumulatively I have zero apprehensions about recommending to fellow lovers of fantasy and fairy tale retellings . . .
BUT. I also had a lot of tiny issues that combined to be less tiny, in addition to an issue that by itself wasn't tiny at all . . .
So. Tiny things (the "she"s and "her"s are b/c we didn't get a name for a long, long time and I don't want to spoil anything):
1. Tamlin and all the members of his house have carnival masks stuck to their faces.
I thought they were both unnecessary and . . . more than a little bit silly. View Spoiler »
That's the silly part.
The unnecessary part is that if she was really concerned about making it more difficult for him to do-the-thing, maybe it's just me, but in a retelling of Beauty and the freaking Beast, wouldn't it make more sense to, oh, I don't know, trap him as a beast? B/c the very first thing we learn about Tamlin is that he can shift into a half man/half wolf/not at all pretty . . . wait for it . . . BEAST.
2. As much as it pains me to say it, there was a some redundancy (and this is actually three separate tiny things):
In the beginning, if Feyre wasn't trying to escape, b/c, yes, we know, she made a promise, she was blithely walking into traps that the teensiest bit of foresight could have prevented.
In the aftermath of her inevitable rescues, her reaction was always some variation of, "I'm a stupid, insignificant peasant, and I'm even more stupid and peasant-like for forgetting that I'm a stupid, insignificant peasant for even a moment."
And I have a lot of sympathy for Feyre, I really do. Not being able to todothething would give me a similar complex, I'm sure. But that complex was made an issue a touch too frequently, and the resulting tantrums got tiresome.
When Tamlin feels compelled to premeditatedly say, "Before you start yelling . . . ," it's a problem. Just sayin'.
Not-so-tiny thing:
Just to be safe, I'm spoiler tagging this. It's really not much of a spoiler, but it is a piece of information that isn't revealed until you're well into the book:
So not a perfect book. BUT I still liked it.
If you think beast-form is smelly with poor table manners and masks are an excellent alternative, or that my idea of redundancy is really determination, then you will more than like this book. I can't imagine that many people are as hardcore about FAE as I am, so I'm not even going to pretend that might be an issue for you, and I have no one to blame but myself for going into it with preconceived notions about what it means to be a "retelling."
And despite those notions, there was a lot of legitimate Fae lore.
Then there's–what for me was–the book's crowning glory: Feyre's relationship with her family. You will be shocked with how everything eventually plays out, and I'm talking about the good kind of shock. The kind of shock that fills you so full of warmth that you're half convinced you glow with it.
ALSO no cliffhanger.
So. Time to find out for yourself. A COURT OF THORNS AND ROSES is a fantastical retelling of a beloved classic and an older, lesser known folktale from the British Isles, combining both into something completely new. With a tortured hero trying to protect his people from an evil would-be queen, Evil Queen's enforcer whose real intent is as easy to discern as a path back to civilization in a dark, unfamiliar forest, and the girl who shines like a beacon and may just save them all, this is a book that will appeal to a broad demographic. Recommended.
Was this review helpful to you? If so, please consider voting for it on Amazon or like it on Goodreads!